Civil Engineering
Since 2000, we have offered professional civil engineering services for our clients throughout the state of Arkansas. The civil engineering capabilities we offer are combined with land surveying and other services so all can be offered under one roof with one firm. This makes it more convenient for our clients. With the services we offer, a client can see a project from its beginning to its completion at Tyler Group.
Our team...
Tyler Group's engineering team consists of 2 Registered Professional Civil Engineers. We provide the following designs: residential and commercial, subdivision, drainage, storm drainage, water line, sanitary sewer, waste management, and wastewater facility designs range from 500 gallons per day to multi-million gallons per day. We also provide services in site plans, site development, and development review.
Our experience...
With over 100 years combined knowledge and experience in the civil engineering field, Tyler Group is confident we can successfully complete any civil engineering project.
Contact us today for all your civil engineering needs!
Related Projects

Featured Project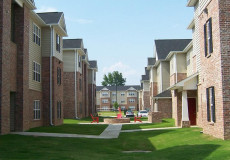 + see all projects